WHAT DOES A CABIN FILTER PROTECT US FROM?
A cabin filter purifies the air which the passengers and the driver breathe. The filter should be replaced at least once a year, or every 15,000km. Discover the five most-serious threats which regular cabin-filter replacement can help protect you from.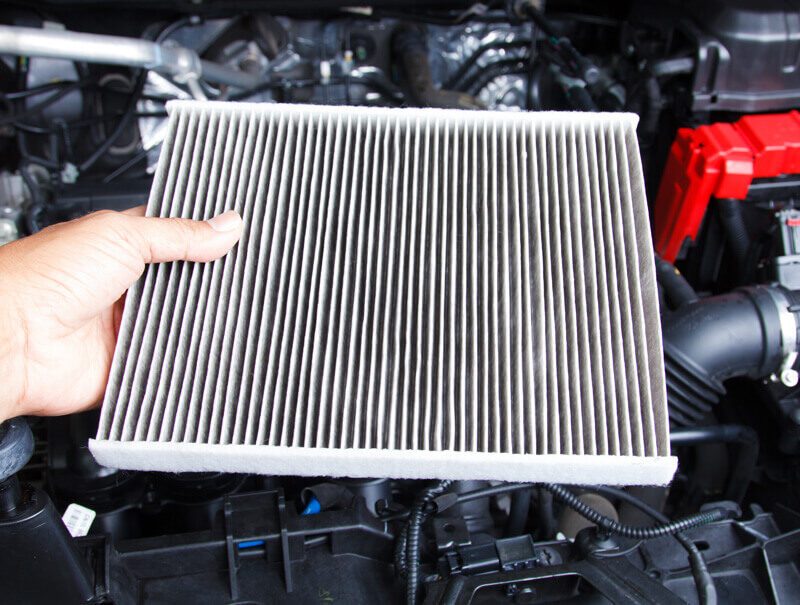 5 threats you can avoid:
Breathing in contaminants
The cabin filter retains microparticles of dust, plant pollen, and many microorganisms. These particles can be microscopically small – their diameter can be up to 7 times smaller than the diameter of a human hair. Inhaling polluted air has negative effects on your health, and can cause lung diseases and cardiovascular conditions.

Fatigue and reduced travel safety
Polluted air in the passenger compartment causes discomfort and fatigue during car travel. Tiredness significantly decreases the concentration of the driver and increases the risk of accidents.

Fogged-up windows and poor visibility
Moisture particles rest on the surface of a worn-out cabin filter, or, to be precise, on the contaminants retained by the cabin filter; this moisture enters the passenger compartment of the car and causes the windows to fog up. With a clogged filter and poor airflow, driving safety is reduced, and the risk of accidents increases.

Reduced efficiency of the air conditioning system
Over time, every cabin filter becomes clogged with contaminants, leading to reduced air conditioning or ventilation-system-blower performance. When you fail to replace the cabin filter on regular basis, the volume of air fed into the passenger compartment is significantly reduced.

Allergic reactions
Using a vehicle with a contaminated cabin filter can cause irritation in the eyes, sneezing, or nasal congestion. Even those with no allergies are at risk, because impurities cause so-called allergisation, i.e. the process of becoming sensitive to the allergens in our environment.
Remember: all FILTRON cabin filters provide extended protection with the PROTECT+ technology, which is based on a special microparticle coating (visible under a microscope) with proven and effective biocidal effect. PROTECT+ technology effectively retains allergens, bacteria, and moulds in the filter.
---
The FILTRON range holds more than 2700 products, and covers 97% of the European passenger-car market. Mechanics appreciate the high quality of the FILTRON-brand filters. Every year, more than 36 million FILTRON filters find their way to mechanics from all the European countries.